The "Monument to the Murdered Jews of Europe" is the official name of the monument.
In 1999 the Bundestag decided to build the monument and after two years of construction it was opened on 10 May 2005.
On an area of 19,000 square meters there are 2711 stelae, which have different heights. As a result, the field looks undulating. However, the shape of the stelae has no meaning whatsoever. Some were of the opinion that they should represent incinerators. But that's not true.
The abstract form is intended to make the visitor think.
In the southern corner of the field of stelae there is the "place of information" underground. An exhibition that provides information about the necessary education about the victims and the places of horror. In the foyer, the visitor receives the first basic information about the contents of the exhibition. You will then be taken to four themed rooms.
The memorial in Berlin is the central Holocaust memorial in Germany.
In 2007, the Holocaust Memorial received the highest recognition award of the American Institute of Architects, the "Institute Honor Award".
Weather
Holocaust Memorial - sights, tours and tickets ... on Tripadvisor.
Can you find something on TripAdvisor for the Holocaust Memorial in Berlin?
Trip Advisor
Monument to the Murdered Jews of Europe
Location & Sights nearby
The Holocaust Memorial is located not far from Pariser Platz and the boulevard Unter den Linden. It is located in the heart of the city, so every visitor has the opportunity to experience what the Holocaust left behind here. A visit of the memorial can be very well combined with a visit to the Brandenburg Gate, Potsdamer Platz, Tiergarten or the Reichstag.
Our video for the Memorial to the Murdered Jews of Europe in Berlin.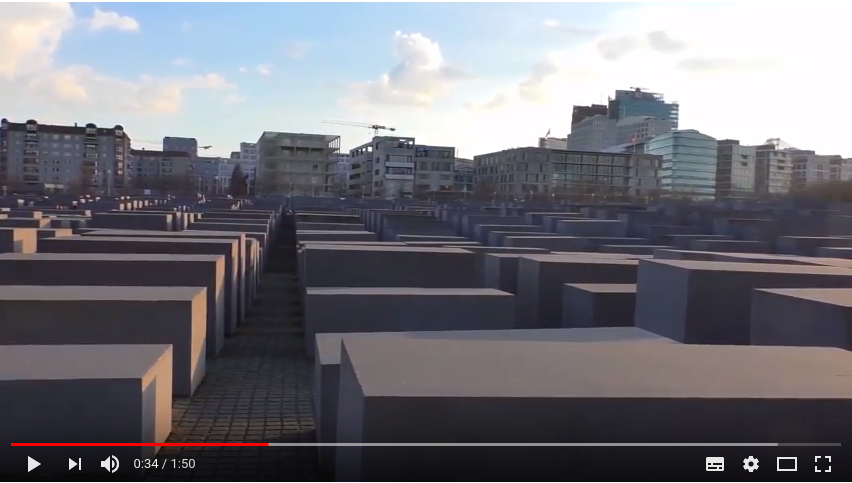 Address, opening hours...
Address: Cora-Berliner-Straße 1, 10117 Berlin
Opening times of the exhibition at the Information Centre: closed Mon, Tue – Sun 10 am – 6 pm - Last admission 45 minutes before closing time
Public Transport: S + U Bahnhof Brandenburger Tor: S1, S2, S25 ; Bus: 100, 200, N2 / Behrenstraße/Wilhelmstraße ; Bus: 200, N2
Field of Stelae: accessible 24h a day
The entry is free of charge.
Photo Gallery
Holocaust Memorial - Monument to the Murdered Jews of Europe